Tal Doron, Director of Innovation, GigaSpaces Technologies
Tal will discuss how organizations are leveraging AI and machine learning to uncover insights in real-time and instantly act upon them to impact business results. A new way to simply and rapidly develop & deploy time-sensitive applications, capturing smarter and faster insights for mission-critical services, will be presented. You will learn how real-time applications are running advanced analytics on data as it's born, enriched with historical context from data lakes and are successfully:

• Reducing maintenance and operational costs via predictive and preventative actions
• Streamlining and optimizing operations
• Introducing new services and revenue streams.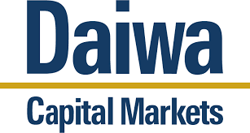 Huayi Dong, Global Head of Electronic Trading Solutions, DAIWA

Customers expect always-on, smarter and faster-personalized customer services from their algorithmic trading services.
In this session Huayi will discuss why Daiwa selected the GigaSpaces platform for their mission-critical system, and how given the "race to zero" for electronic trading, GigaSpaces has helped Daiwa gain a competitive edge.